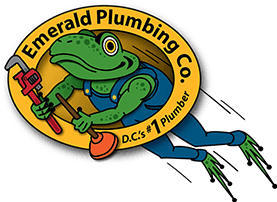 Washington, D.C. Septic Tank Cleaning
Maintaining a clean and efficient septic tank enables the proper functioning of a property's plumbing and waste disposal system. Our team of Washington, D.C. septic tank cleaning professionals has established a strong reputation for delivering reliable services that homeowners can rely on. We have proudly served the areas of Fairfax, Alexandria, and Silver Spring since 2001.
Call Emerald Plumbing today at (240) 345-9920 or reach out here online.
The Signs You Need Septic Tank Repair
There are certain signs that indicate when septic tank repair work may be needed. Recognizing these signs early on can help prevent further damage and costly repairs. Here are some of those common indicators:
Toilet Backups: If you notice frequent toilet backups or if flushing the toilet causes water to rise or drain slowly, it could be a sign of a septic tank issue. This is often caused by a clogged drain or a full septic tank that needs to be pumped.
Standing Water: Pools of standing water in your yard, especially near the location of your septic tank or drain field, can indicate a problem. It could be a sign that your drain field is not functioning properly and wastewater is not being absorbed as it should.
Slow Drains: If you experience slow-draining sinks, showers, or tubs, it may be an indication that your septic tank is not processing waste efficiently. This can be caused by excess sludge buildup or a failing drain field.
Bad Odors: Foul odors coming from drains or your yard can be a clear sign of a septic tank problem. This can occur when the tank is full, leading to sewage backup and the release of unpleasant smells.
Grass that is too soggy or too green: If the area above your septic tank or drain field is constantly wet, it could indicate a leak or overflow from the tank. If the grass above the system is unusually lush and green compared to the rest of your yard, it may be a sign that excess nutrients from the septic tank are fertilizing the soil.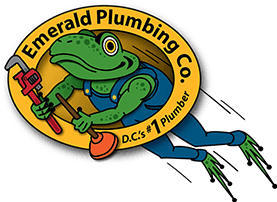 Quality Service Every Time - How Can We Help?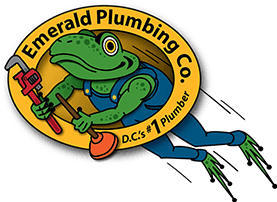 The Benefits of Professional Washington, D.C. Septic Tank Cleaning
Calling on one of our experienced techs—rather than choosing the DIY route—is done to ensure the process is carried out safely and effectively.
Septic tanks contain hazardous waste materials, including bacteria, viruses, and other pathogens. Handling these biohazards without proper knowledge and equipment can pose serious health risks. We're trained in handling these substances safely. We have the necessary protective gear and follow strict protocols to minimize the risk of exposure.
Emerald Plumbing not only removes the accumulated waste from your tank but also ensures its proper disposal. Our techs have the knowledge and experience to handle and transport septic waste according to local regulations and environmental guidelines. Improper disposal can lead to groundwater contamination and environmental damage. By calling on our technicians, you can have peace of mind knowing that the waste will be disposed of in an environmentally responsible manner, minimizing the impact on the surrounding ecosystem.
Prompt & Reliable Septic Tank Services
When your septic tank fails, there's no time to lose in getting a plumber out there to help. When you call Emerald Plumbing, we'll have someone out there the same day. Moreover, the professional you see will be someone with a track record of doing thorough work that you can count on.
Contact Emerald Plumbing by calling (240) 345-9920 for immediate service or through the use of our online contact portal.